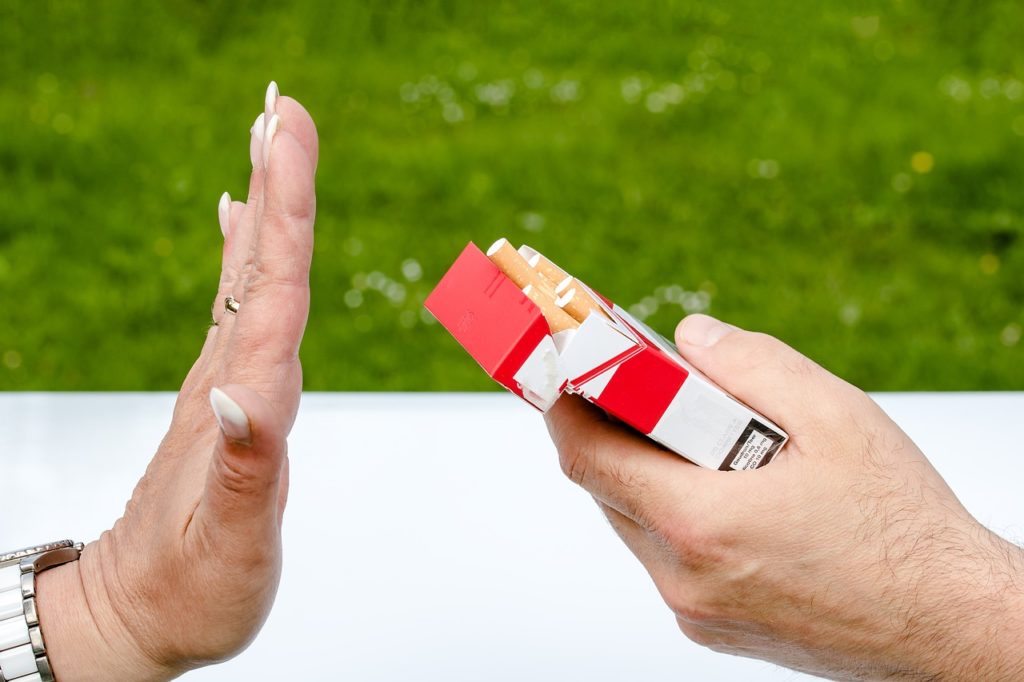 "No thanks. I don't smoke."
A smoker is someone who smokes.
An ex-smoker is someone who doesn't smoke, but wants to.
A NON-smoker is someone who doesn't even think about smoking.
Are you ready to become a NON-Smoker?
After just ONE Session your need for a cigarette or vape will be gone.
Transition from a smoker to a non-smoker.
Feel indifference towards tobacco products around you.
Adopt healthier, enjoyable ways to relax, combat boredom, and concentrate.
Experience the benefits of being a non-smoker.
Say Goodbye to Smoking Forever with Hypnosis
Are you ready to reclaim your life, break free from smoking, and embrace a healthier, more vibrant you?
Welcome to the Smoke No More Hypnosis program, your pathway to bidding farewell to smoking for good. My aim is to support your journey toward becoming a non-smoker, tailored to your unique needs.
ONE POWERFUL PACKAGE
Customized sessions tailored to suit your individual path to a smoke-free life.
Most clients become non-smokers after just one session, but deeper issues may require additional sessions for lasting change.
My purpose is to get your subconscious mind on board with your conscious desire to be a non-smoker, in alignment with your readiness and commitment.
Note: I only work with individuals genuinely committed to quitting smoking. If smoking feels like a friend, let's address that first before diving into the process. Your readiness is crucial for our success.
DETAILS
Convenient online meetings via Zoom from the comfort of your home.
Up to 3 hypnosis sessions, as needed, lasting up to 2 hours each, scheduled weekly.
Value: PRICELESS! – but now only $200 – Compare that to what you spend a month on smoking.
WHAT TO EXPECT
Attention focused on your personal pathway to becoming a non-smoker forever.
Experience the transformative power of hypnosis in a safe environment.
Gain mastery over your emotions with an easy-to-learn tool for stress, grief, nerves, anger, anxiety, overwhelm, and other uncomfortable emotions.
Regain control over your life and health, paving the way for a smoke-free future.
Join the ranks of non-smokers and step into a more fulfilling journey towards well-being. 
Align your Mind Body and Spirit with being a non-smoker.
When you are ready, I'm here to guide you every step of the way.
TESTIMONIALS
"When I decided to try this, I thought "I'll try it, it might work." But as a smoker for years, I was apprehensive and nervous but I went for it. After my session I felt the same but better, I went on with my day, my cigarettes were still on the table, I just didn't want one. It's a process to quit but with Kim it was so much easier. I don't get cravings like I used to. I feel better and I feel better about me! Let Kim help you quit smoking; it will be the best thing you can do for you." – Leisa H., Virginia
"I started smoking in high school to fit in. I've tried to quit several times but it never worked. But after Kim introduced me to her program, that was the end of my battle with cigarettes for forever. Now I can hold my new niece without worry because I don't smell like an ashtray. So if you want to stop smoking, Kim is the one to call!" – S.H., Glade Spring, Virginia
Ready to Begin Your Smoke-Free Journey?
Join countless others who quit smoking their first session!
Contact me via email at MyBreakthroughSpecialist@gmail.com
to schedule your session and
Take the first step towards a healthier, smoke-free life.
Why Choose Smoke No More Hypnosis?
Because You Want To Get The Benefits You Desire:
More Time with Loved Ones: Reclaim precious moments with family and friends instead of taking smoke breaks.
Youthful Appearance: Look younger and feel more vibrant with improved skin and a healthier glow.
Breathe Freely: Take deep, satisfying breaths of clean, fresh air without the burden of smoke.
Enhanced Persona: Experience the joy of smelling clean and fresh, making a good impression.
Better Relationships: Be more pleasant to kiss and improve intimacy in your relationships.
Full Participation: Be included in all the fun activities without the limitation of smoking.
Enjoy Food without Weight Gain: Savor flavors without overdoing it.
Extended Life Expectancy: Add 10 years to your life expectancy by quitting.
Improved Physical Fitness: Reclaim your stamina and energy. Imagine easily climbing stairs or enjoying physical activities without struggling for breath.
Financial Savings: Beyond health benefits, quitting smoking saves you money, allowing you to give yourself experiences you didn't think possible before.
Content-Free: Under hypnosis, you will not be asked to share your life story. Our focus will be on the benefits you will receive and how good you will feel.
All these benefits are available to you when you contact me now!
Ready to Take the First Step?
Consider the financial and personal benefits of investing in your health.
You can become a non-smoker in one powerful session!
Contact us via email at MyBreakthroughSpecialist@gmail.com to schedule your session and step into a smoke-free future full of vitality, joy, and freedom.
REFUND POLICY
No refunds after the first session.
Why?
Because I care enough not to let you sabotage yourself and I am here for you to get results!
DISCLAIMER
Kim Messersmith is not a medical professional. As a hypnotist, tapping practitioner, and life coach, she combines effective methods to help you make changes at a deep, inner level to become a non-smoker quickly, easily, enjoyably, and automatically. Please visit your doctor to adjust any medications as necessary after you become a non-smoker.
Still unsure if this is right for you? Email me and let's chat about it.